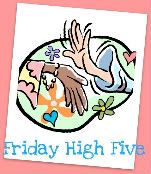 This is my first time to join in with Angela from
Angela's Adventures
for her
Friday High Five
!
The premise is simple pick 5 things,places,pictures,funny,serious etc...make a list...5 things
Before I do that let me tell you about Angela, we live in the same town our children go to the same school...WE HAVE NEVER MET! I am a recluse ya'll, seriously...I have serious social anxiety plus I need my roots done...
Here we go my list of 5 things...I am on SSS overload and my brain isn't functioning...so my humor is a lil skewed
5 Reasons the desperate Real Housewives Of ATL Made Me LMAO
5 NeNe and Kim trying to kiss and make-up, instead, in true form, a catfight happens over who choked who and who pulled whose wig(s)- I am not so sure Kim is the only wig wearer of the bunch...just saying
4 The Oh So endearing term BIG Poppa-Kim Kim Kim you're giving Blondes all over the world a bad name
3 Lisa's facial expression at the SHE by Sheree' fashion show-yanno cuz her clothing line was so much better
2 You realize you know ALL the words to 'Tardy For the Party'-well it's catchy!
1 Your wig on too tight HEFER!- There are NO words!
For a WAY better example of Friday High Five go see
Angela
My confession for today: TGIF!
Click Here
for the ROTW Giveaway